Who is Molly? You ask.
Well, if you're totally sleeping under a rock somewhere *inserts side eye emoji*, then let me wake you up and put you on.
I am currently obsessed with Issa Rae's Insecure on HBO. I watch each episode faithfully and sound off on my Twitter feed with the best lines and moments from the show.
Insecure is a "modern-day black women are usually portrayed as strong, confident and "flawless." But Issa and Molly are definitely not "killing it." These best friends must deal with their own real-life flaws as they attempt to navigate different worlds and cope with an endless series of uncomfortable everyday experiences." via HBO
On last night's episode, "Real as F*ck", I had an "Oh My God, I'm Molly" moment. And my good girlfriend, Bellez, confirmed it with a "yes, you are Molly lol." But am I really?
So, what happened in the episode that prompted me to this conclusion? Well, at least made me question whether I am Molly? There was one defining moment when it all clicked.
Let's just jump right into it, shall we?
I've never had a read session like Issa and Molly with any of my good friends. Don't get me wrong, my friends will read me when necessary. But they've never dug into my ass the way Issa and Molly did each other. Blow for blow. Granted, that's what real friends are for. Like, seriously. You fight, disagree and makeup later. At the end of the day, that's your true friend. But this was some "M.B.A in Read University" type ish.
Issa rolled out the read receipts like it was a dissertation. I literally start to gulped down my glass of red wine, when Issa said, "Ok, have you noticed Molly the common denominator in all your "can't find a man bullshit" is YOU!"
Let's pause here. *Looks over at Bellez. Then back at myself. Then back at the screen and thinks, "Shit, just got real."*
Issa continues to say, "Yes, let's do the nigga run down Molly. One minute, he's too thirsty. The next minute, he's too distance. The next, he's too gay. And then, when you do find someone that you actually like, you ruin it by doing too fucking much. You act like finding someone is supposed to be some type of fairytale but it's not. You're impossible to please."
And at that moment, I blurt out, "holy crap, I'm Molly".
Bellez responded, "Yes, Kea. You are lol."
I literally threw my head down on my hands in my lap. Then, got up and poured another glass of wine.
So since we are here, let's get "real as f*ck" with each other.
I had an ex-boyfriend say to me, "did you ever think that the problem may be you? That maybe it's not everyone else. Maybe you are the reason you keep repeating the same cycle." And maybe he had a point, but I wasn't trying to hear that at the time. Especially when my relationship was on the verge of ending. But seeing and hearing Issa say those words to Molly last night was like a wake up call. I thought to myself, "Damn, am I the reason none of my dating situations have worked out? Do I require too much? Is my mentality towards dating all messed up?"
Hmmm.
And when Issa went through that list of read receipts, girl you would've thought I was standing in the TV screen in Molly's place. That's how much it was *real as f*ck" for me.
I hate to admit this to myself, but I actually do too much when it comes to someone I actually like. My friends tell me this all the time! Either its too much blue and not enough gray in the text conversation or I'm sabotaging a good thing with someone based off a past experience. Next thing you know, I'm cutting off a good thing because I'm so wrapped up in my head of how I envisioned things to go or exerting unnecessary pressure on a situation. Ultimately, blocking my own blessings in the process.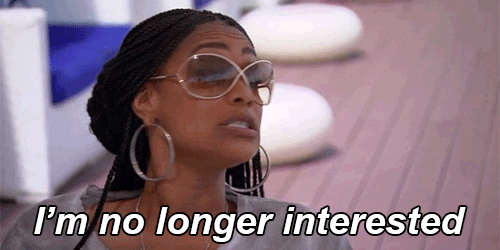 Now, don't get it twisted. F*ck boys are still alive and thriving. I've cut plenty off because I'm not the one.com. However, I've been doing a better job of letting go the fairytale of what finding someone should be and just enjoying the process of dating. Every now and then, the worrywart comes out and I start to second guessing things. But, I'm doing better! One step at a time folks.
Last night's episode, just revealed some self-truths that were really hard to admit to myself.
So, am I Molly?
Yes and no. I definitely am Molly, at times. Not going to lie. But, I've also evolved from my Molly ways this past year, to the point that I may not be her anymore. The jury is still out on this one lol.
But, what I can confirm is acknowledging my habits and addressing them was the first step to growth and maturity. Also, taking time to know who I am and what I want in my life.
I'm not sure how the season finale of Insecure will play out next Sunday, but I pray Molly and Issa work out their personal issues for the sake of themselves and their friendship.
~
Kea
#insecure #hbo #issa #molly #issarae #real #tv #show #black #blackwoman